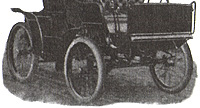 1900 WINTON TWO-SEATED SURREY
8-HP, tiller steering, 32-inch front wheels with 3-inch tires, 36-inch rear wheels with 4-inch tires, single cylinder hydro-carbon motor, fuel; common stove gasoline or naptha, color; Brewster green with maroon "automobile red" wheels and running gear; leather cushions, dash, and fenders. All carriages supplied with top, storm apron and gong.
Price: $1,200.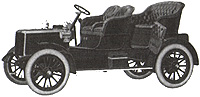 1904 WINTON QUAD
24-HP, four cylinder horizontal motor, 4-3/8 inch bore by 5-inch stroke, cylinders cast in pairs with integral heads and water jackets; two speeds forward, one reverse; automatic sight feedoiler; one 6v accumulator and 5 dry cells, vibrator coil; single float-feed carburetor; double tubular radiators with centrifugal pump; two brakes on rear wheel hubs, one on drive shaft. Side entrance tonneau body, shoice of Winton red or Brewster green.
Price: $3,000.

1905 WINTON MODEL B SIDE ENTRANCE CAR
24-30-HP, four cylinder, 4-3/8 X 5, vertical engine under bonnet, induvidual clutch transmission, 3-1/5 X 1 gear ratio, mechanical lubrication, make-and-break ignition with gear driven alternating magneto and single non-vibrator cable; shaft drive; pressed steel frame; weight 2100 lbs; wheelbase 102 inches, 32 X 4 inch tires; color optional.
Price: $2,500.